"...MY OWN DAUGHTER, CHLOE WHO IS THE LIGHT OF MY LIFE."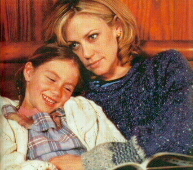 SAM WITH CHLOE
"...THERE IS HOWEVER, ABSOLUTE LOVE AND ABSOLUTE DEVOTION AND THESE ARE THINGS THAT MY DAUGHTER AND I HAVE FOR EACH OTHER."
ONE OF THE MOST BEAUTIFUL PARTS OF SAM'S CHARACTER HAS ALWAYS BEEN HER ROLE AS A MOTHER. CHLOE GAVE SAM THE STRENGTH AND HOPE TO BE ABLE TO GO ON WITH HER LIFE AFTER TOM DIED. IN "POWER CORRUPTS," SHE TELLS BAILEY, "YOU KNOW WHEN TOM DIED ... I THOUGHT THAT THE GUILT WAS GONNA DESTROY ME. BUT I HAVE A DAUGHTER. AND SHE NEEDS ME. SO I DON'T HAVE TIME FOR THAT GUILT." SAM WOULD DO ANYTHING FOR CHLOE. HER RELATIONSHIP WITH HER DAUGHTER ALWAYS CAME FIRST. AND IN THE END, SHE GAVE UP HER CAREER AND LEFT THE VCTF TO BE WITH HER DAUGHTER BECAUSE CHLOE NEEDED HER. AFTER GIVING BAILEY HER RESIGNATION, SHE TELLS HIM, "I'M GOING TO BE WITH CHLOE FULL-TIME NOW. IT'S WHAT SHE NEEDS. IT'S WHAT I NEED." SAM NEEDS CHLOE JUST AS MUCH AS HER PRECIOUS BABY GIRL NEEDS HER.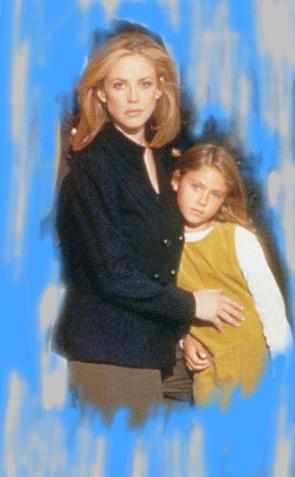 FOR THE FIRST TWO SEASONS OF "PROFILER," CHLOE WAS PORTRAYED BY CAITLIN WACHS. EVAN RACHEL WOOD WAS CAST IN THE PART FOR THE THIRD SEASON.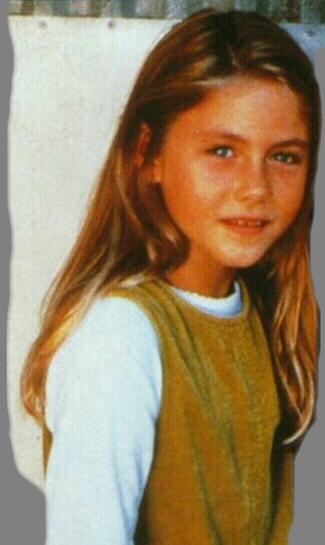 CHLOE 1996-1998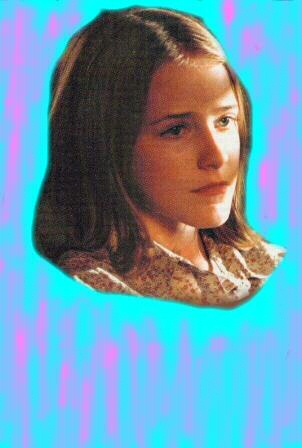 CHLOE 1998-1999
SAM AND CHLOE HAVE SHARED THEIR LOVE AND DEVOTION FOR EACH OTHER WITH US DURING MANY EPISODES. HERE ARE SOME OF MY FAVORITES. I HOPE YOU ENJOY YOUR JOURNEY WITH THEM AS MUCH AS I HAVE...
SEASON ONE SEASON TWO SEASON THREE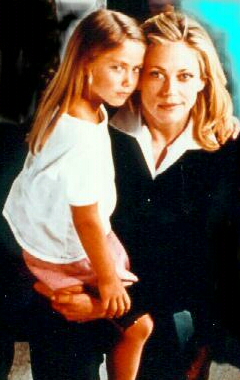 WE MEET CHLOE FOR THE FIRST TIME
SAM EXPLAINS TO CHLOE WHY SHE HAS TO GO TO ATLANTA
SAM BRINGS CHLOE A STUFFED PANDA BEAR AND REASSURES HER THAT HER MOTHER WILL ALWAYS BE THERE FOR HER
SAM LOSES ONE OF HER SHOES AND CHLOE PUTS ON LIPSTICK
SEASON TWO SEASON ONE SEASON THREE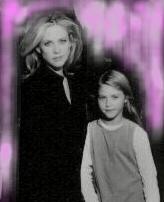 CHLOE WAKES SAM UP FROM A NIGHTMARE ABOUT JACK AND THEY HAVE A TALK ABOUT BAD DREAMS
CHLOE WANTS SAM TO TALK TO HER CLASS ABOUT HER JOB
CHLOE PREPARES TO GO LIVE WITH HER GRANDPARENTS
CHLOE COMES HOME
SEASON THREE SEASON ONE SEASON TWO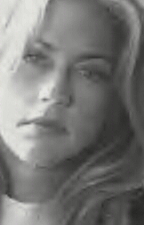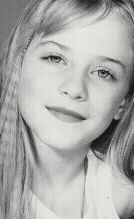 SAM AND CHLOE TALK ABOUT MOVING ON WITHOUT TOM
SAM TALKS TO CHLOE ABOUT HOW TO GO ON AFTER SOMEONE DIES
SAM AND CHLOE TALK ABOUT CHLOE'S LETTER TO HER CLASSMATE WHO DIED